Services for individuals.
From the analysis of your needs to the study of the layout, all the way to the tightening of the last screw: for us,
every single aspect is the most important.
1
1
A house that
is all about you
.
Customised furniture and furnishings in Varese, Ticino, Como and Milan.
For the past 20 years, we have been making customised furniture and furnishings in Varese, Como, Milan and Switzerland's Ticino region. We give harmony and aesthetic balance to your home with custom-made furniture that will perfectly fit your space, your taste and your daily needs.
Every home is unique and the search for a piece of furniture or furnishings that reflects one's taste can be challenging, that you have the feeling that something is missing from that finished piece of furniture, that that piece of furniture, yes, it's beautiful, but "I just don't see it in my house".
Custom-made wardrobes, walk-in wardrobes, tables, kitchens, bookcases and bathroom furniture: in our furniture shop in the province of Varese we will create a customised piece of furniture for you that will be an expression of your style, enhance rooms and optimise space,providing your home with functionality, based on your needs.
Tell us all about your tastes, tell us about your home, describe your needs and rely on the experience of the architects and interior designers who have been working expertly for years in our showroom in Marchirolo, in the province of Varese, to create your custom-made furniture.
Our skilled craftspeople will transform your idea into the piece of furniture you were looking for, with the assurance that it will fit harmoniously into your home.
2
2
Planning
and interior design.
Designing the interior of a space requires not only specific and technical skills, but also and most importantly an artistic sensitivity that allows one to look beyond, to imagine a beautiful, functional result, in harmony with the client's needs.
With the interior design service, our architects do exactly that: they explore who you are, what your tastes are and what defines you, to combine this information with the activities that are to take place in your space and imagine the place you will be living in.
We will identify your needs and goals with the furnishings of your home, office or accommodation and create a customised interior design for you.
Find out more
From space planning to interior design consultancy
The design of the spaces and the choice of the right furniture for the home is not simple: this is why in our showroom in the province of Varese you will find expert interior designers and architects ready to listen and to understand your needs. Here you can have a 360° consultation: tell us what you envision for your space, to immediately understand what you really need and define the right design of the interior of your house, your office or your accommodation.
Planning and interior design in Varese, Ticino, Como and Milan: how we work
With complete or turnkey renovation, we take care of organising the work plan and contacting the professionals to carry out the design and interior decoration work. We take care of the preliminary and the design phase, to then move on to the production of the executive drawings and coordinate the implementation phase. We deliver and assemble in Italy and abroad with teams of professional fitters and technicians and, for our clients in Switzerland, we take care of all customs clearance paperwork. We also ensure an after-sales service, offering a guarantee on the products purchased.
Interior design for offices
To realise a good interior design project of an office, it is necessary to consider first of all the evolution and change in recent years. We have changed, our way of working and, also, also the places where we work, which must be flexible and must put the well-being of employeesat the heart.
Meeting rooms with avant-garde design, spaces for interaction and sharing, functional office furniture for working well and being productive, and the right and necessary attention toeco-sustainability is what we have been creating for 20 years in the offices of our customers in Varese, Ticino, Como and Milan.
3
3
Home and bathroom
renovations.
We develop and oversee house renovation projects in Varese, Como, Ticino and Milan. Starting from an accurate interior design, which is fundamental, we will elaborate the new project plan and develop the new layout of the environment. We will evaluate different solutions to guarantee you a tailor-made renovation of your home or bathroom. We will tell you about the new solutions for floor and wall coverings and develop the installation project. We will let you get to grips with all the materials and finishes and match them with every furniture choice. Our professionals will follow you through every stage of your home renovation, interfacing with the craftspeople involved on site ensuring that all work is carried out to the highest standards.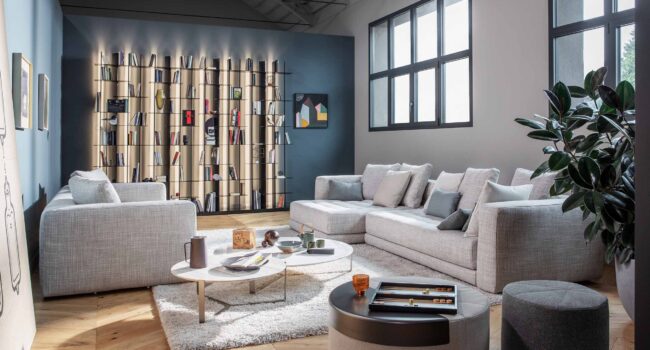 4
4
Ad hoc interior
lighting
to shed light on beautiful things.
We have 20 years' experience in the design and development of interior lighting projects in Varese, Ticino, Como and Milan. Light has the power to influence our mood and the atmosphere of a space, that's why one of our goals is to design and develop lighting projects that are able to completely transform the user experience of rooms.
Now more than ever, modern lighting is able to reveal colours and shapes, giving value to the textures and surfaces of materials.
Over the years of designing lighting for homes and offices, we have realised that there is no one lighting design that applies to all rooms, because so much depends on exposure and furnishings. This is why we study each room and define its specific design lighting, that is not reduced to "daylighting" the environment. Starting with the layout of the furniture, we design the perfect arrangement of the lamps, working with both concealed technical lighting and decorative lighting.
5
5
Private visits to the
showrooms
of major design brands
If you are in Varese, Ticino, Como or Milan and are planning (or redesigning!) your spaces, book your guided tour and we will be happy to take you to look at and experience the collections of the best home, office and hospitality furniture brands.
This will be a unique experience for you, as you will be able to take a close look at the latest products of the various designer brands: modern kitchens, designer armchairs, living room and bathroom furniture, complete bedrooms, children's bedrooms, designer bookcases and desks, and modern furnishing accessories, all in highly evocative and inspiring spaces that will inspire you and make you visualise the furnishing of your spaces even more vividly.
We manage the transport of furniture in Varese, Ticino, Como and Milan, and also take care of customs clearance for those living in Switzerland. We take the utmost care with transport and assembly: we protect your furniture in our logistics centre until it is ready to be delivered, taking care that all furniture is stored safely. We make sure that the furniture arrives at your home exactly as it left the site and, on request, we also offer a removals service, dismantling and reassembling your existing furniture in new spaces, modifying it if necessary.
In our Varese furniture showroom we work with highly specialised teams of fitters with whom we have been collaborating for years.
It is our priority to work only with trustworthy people, who will take care of your space as if it were their own, paying the utmost attention to floor and wall coverings and trying to be as unobtrusive as possible. We guarantee full assistance in the assembly phase, the perfect execution of which can enhance every design detail.
You can rely on us even after you have completed each of your purchases.
We provide qualified assistance on spare parts and maintenance of your designer furniture in Varese, Ticino, Como and Milan, quickly and with the same care as your new project. For us, the direct relationship with you, even after a long time, is important and we will always be there to take care of the rooms we have designed and furnished together.
The interior design project we will create based on your needs will already be a work of art in itself, but to provide an even more extraordinary space we will rely on article design. Working with art galleries and different artists, we will decorate your home and spaces with unique artwork in harmony with your sensibilities and taste.
We will bring a selection of pieces to your rooms, to arrange them and see which pieces give an extra touch to your home, office or accommodation.
If you don't find anything to your taste, don't worry: we will bring back any pieces you don't like, without obligation.