Environments.
From the kitchen to the living room or the bedroom, we want every corner of your home
to become your favourite.
Kitchens, bedrooms, bathrooms,
designer

living rooms.
Kitchens, bedrooms, bathrooms,
designer

living rooms.
Modern kitchens, designer furniture for living and sleeping areas, children's bedrooms and bathroom furniture from top brands. Come and discover the design furniture of Galimberti Interiors.
Tailor-made kitchens to your taste.
Modern kitchens are the ideal solution for furnishing open spaces and lofts, the ultimate expression of total living. All the proposals you will find at Galimberti Interiors come from the best designer brands and are perfect for both large and small houses, which may need more specific solutions, such as a concealed kitchen or a custom-made corner kitchen.
Modern kitchens with a wide range of finishes and fine materials offer the guarantee of excellent quality, for design furniture of the highest quality that will last a lifetime.
At Galimberti Interiors you can redesign your living area with designer furniture that will interact perfectly with all the other rooms in the house. Designer chairs, modular sofas, modern sofa beds, TV stands with innovative lines: the complete living area furniture which you imagine for your home or office.
Our designer tables are designed for conviviality, for weekend dinners with friends and for lunches with relatives during the holidays, occasions that require an extendable table to ensure comfort and the right amount of space for everyone. In contrast, tables for four or six people are perfect in flats where space is at a premium and every extra centimetre makes the space more liveable. In our furniture store in the province of Varese you will find tables that can be customised in finishes and materials, offering a wide choice even in those cases where furniture already exists and the table complements a room. Our selection of chairs are from the best brands and are selected carefully so that comfort and design are at the highest level.
For reading enthusiasts we also design and manufacture custom-made bookcases, while for lovers of evenings in front of the television we design TV furniture that can accommodate all devices, without neglecting aesthetics.
To complete the living area you will find modular sofas and sofa beds offered in a variety of fabric ranges and many shapes and sizes: everything you need for your days of relaxation. Come and discover all the living room furniture in our showroom in Marchirolo: we ship throughout Varese and province and also to Como, Ticino Canton and Milan.
The sleeping area is the most intimate and private area of the house. This is where you start and end the day and where you need to rest well, both body and mind, to start each new day positively and with the right amount of energy.
At Galimberti Interiors you will find modern bedrooms, offered by the best design brands on the market, which propose solutions with an impeccable aesthetic taste, yet capable of optimising space. Coordinated bedrooms, complete with double bed, single beds, convertible beds, wardrobes and walk-in wardrobes, all made with exquisite finishes and the highest quality materials that will last for years.
Your wardrobe will also have a designer home.
We create custom cabinets for homes and offices in Varese, Como, Canton Ticino and Milan to store your garments in an orderly manner: wardrobes with sliding or hinged doors, with customised shelves, compartments and drawer units, fully customisable in materials, finishes and colours. And if you need even more space, we can create a customised walk-in wardrobe for you based on your style requirements, complete with compartments, drawer units and accessories to store your wardrobe in a tidy, organised and elegant manner.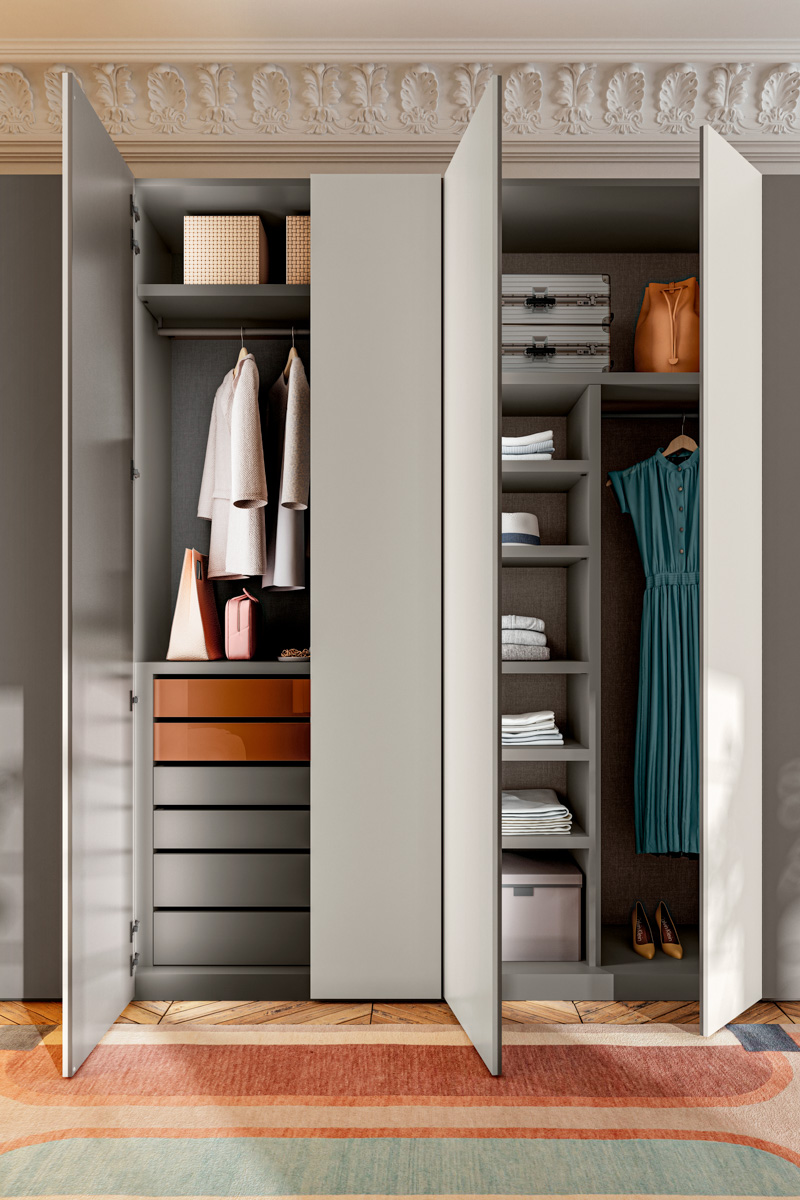 Children's bedrooms are the corners of the home where little ones spend most of their time playing, studying, growing. Children's rooms are the area of the house that, as well as reflecting the character of the little ones, must also be functional, practical, safe and comfortable. At Galimberti Interiors you will find a variety of alternatives, with bridge bedrooms, modern bedrooms and made-to-measure bedrooms, just in case you don't find the right solution for the little ones at home.
Our selection of children's bedrooms is made by the best design brands and provides multiple furnishing solutions, even in small spaces. Our space-saving furnishings,make the most of the space available, thanks to fold-down beds and adjustable desks that are easy to move, maximising the use of space throughout the room.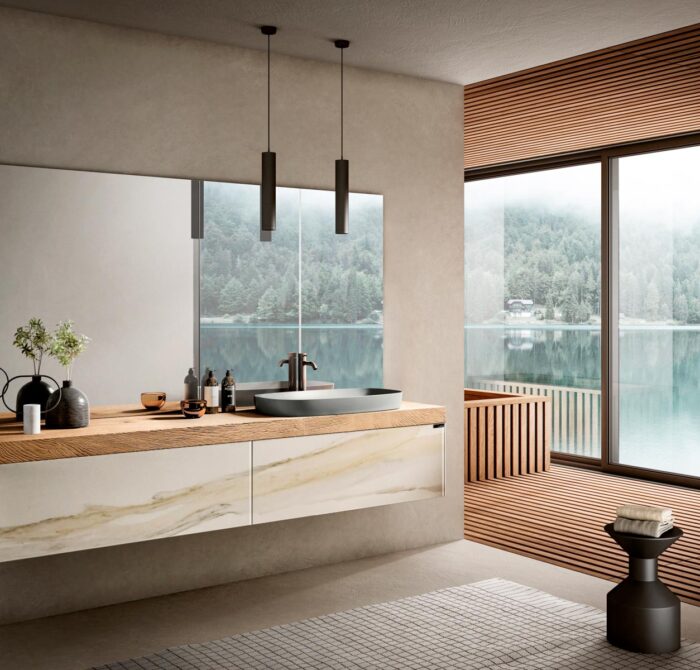 The bathroom is an intimate, calm and serene space that can be organised in different ways depending on the size of the room, as well as on personal style. Come and visit us in our showroom in the province of Varese: we will design your oasis of relaxation together and choose designer bathroom furniture to enhance it, made in different finishes and materials. Galimberti Interiors' bathroom furniture has a modern, refined and innovative design, with modular modules, or made-to-measure to suit every need.
The bathroom should be a practical and functional space, as well as a pleasant one, so that all the products that are used can be optimally organised. The bathroom furniture you will find here has been designed and manufactured for exactly this purpose: to organise and simplify everyday activities. At Galimberti Interiors, from furniture to flooring, you will discover different styles for modern, designer bathroom furniture that will allow your home to speak of you.
In addition to bathroom furniture, in our showroom in Marchirolo you can choose from a variety of modern sanitary ware, designer bathtubs or glass shower enclosures with open and closed styles, with shower trays flush with the floor or free-standing.
Your home is a unique place that reflects you, that welcomes you at all times, that makes you feel protected. There is no other place equal to your home. And as important as it is to choose kitchen, living area or bedroom furniture, it is important to choose the right design items, which complement, define and give personality to rooms.
Furnishing accessories are not just beautiful design accessories, but also functional, as they optimise space: just imagine how good it would be to have an extra light while working or a coat rack at the entrance to the home or office.
At Galimberti Interiors you will find design items for every environment: tables, small lamps, mirrors, clothes hangers, clocks, trays and small containers with an innovative design. There are also many fabrics, which play a fundamental role in the definition of domestic space, whether it is carpets, pillows, curtains or linen for sofas and beds.
And to provide your home, office or accommodation with a truly unique atmosphere, why not rely on Art Design? With this service you can have a piece of artwork to decorate your rooms: an exclusive design object that only you will have.
We take care of light in all its forms: from the search for the right lighting for the different rooms to the choice of lamps and their arrangement, because a good lighting design is not just about lighting the home, but also becomes part of the decor.
Modern and designer chandeliers and lamps transform and enhance space: at Galimberti Interiors you will find various proposals to illuminate your spaces, from LED spotlights recessed in the ceilings to pendant lights, passing through the floor lamps andtable lamps resting on the horizontal planes, all made by the best design brands. Bring light to your spaces: come and discover all the solutions for perfect room lighting in our showroom in Marchirolo, in the province of Varese.
Design that helps you work better: at Galimberti Interiors you will find furniture and furnishings to create a working space tailored to your needs. Desks, bookcases and chairs for your home office from the best designer brands will provide your office with a unique, functional and comfortable environment. Choosing office furniture with a sophisticated design means choosing furniture that improves concentration and stimulates productivity and creativity.
Do you do smart-working or do you need your own space at home where you can concentrate? Create your office with modern-designed furniture that will help you organise and perform tasks and work while maintaining high levels of concentration, but which will also support and protect your posture. Proper lighting for the home office will protect your eyes and make you feel less tired at the end of the day.